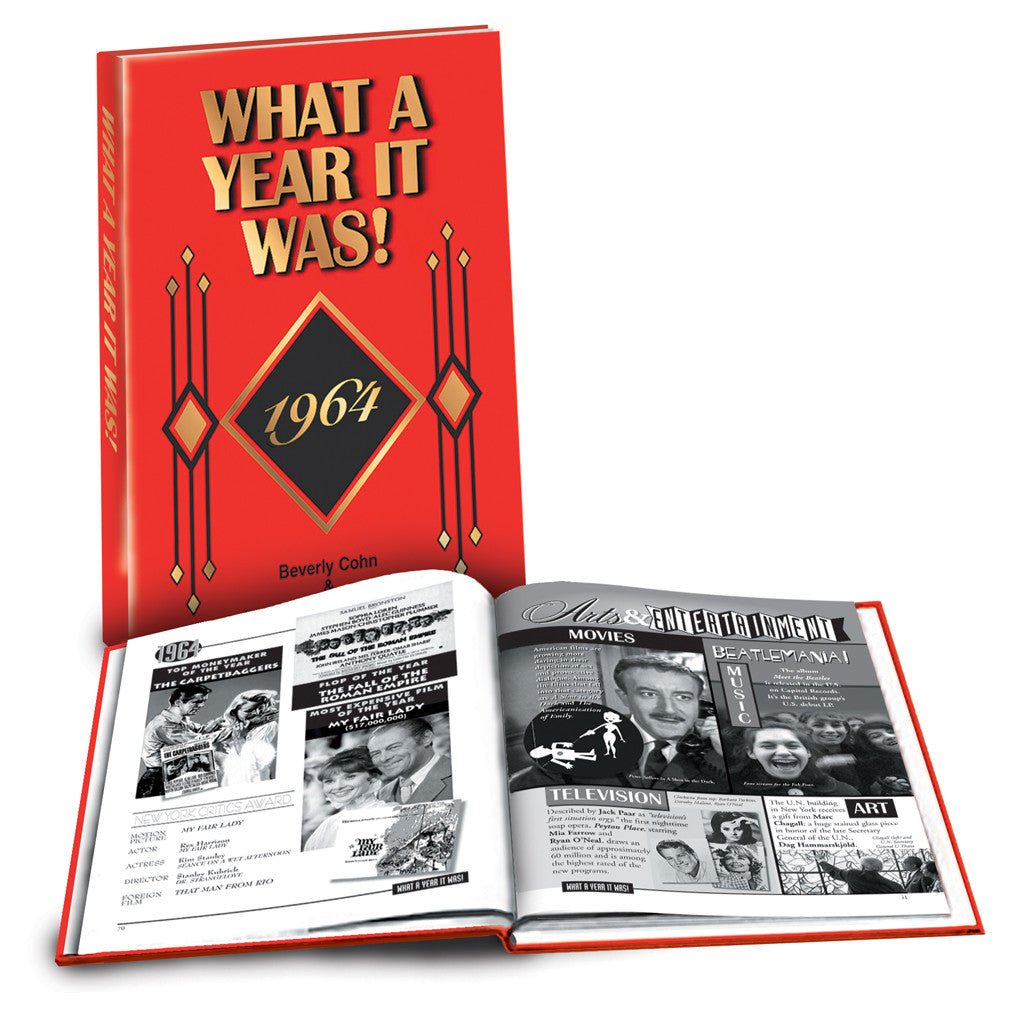 1964 What a Year It Was! Birthday or Anniversary Gift (1st Edition)
Regular price $21.95 Sale
What A Year 1964 Was! LBJ signed the Civil Rights Bill as the Vietnam War ramped up. Beatlemania was in full effect as the Fab Four occupied 5 spots on the Billboard charts. High-concept shows — "Bewitched," "The Addams Family, "The Munsters" — were big on TV. Sandra Bullock and Nicolas Cage were born. The British Invasion spread to movie screens with James Bond, "My Fair Lady," and "Becket." The topless bathing suit made a splash. The Tokyo Olympics were the first Olympic Games staged in Asia.

Our big, classic hardbound yearbook is filled to bursting with stories, photos, and artwork detailing the movies, music, shows, sports, fashion, news, people, places, and events that made 1964 unique and memorable. Personalize it on the special dedication page for a handsome and much appreciated gift.
Product Details
8.75" x 11.25" hardcover
160-176 pages
B&W Content
This item ships directly from our warehouse in Los Angeles, CA

Item is ready to ship in 1-2 Business Day(s). Delivery date will vary depending on your shipping address.

International orders may experience possible delays and take longer to arrive.

We accept complimentary returns within 30 days of receipt if the item is unused and in original condition.
Flickback Media is committed to help you celebrate your own milestones with a little help from our own, whether it's historical facts, nostalgic clips, or classic & colorful greeting cards and calendars.
All of the items you discover here are exclusive to Flickback Media, and many are printed under one roof right here in Los Angeles, California. So we take pride in the quality of our products and believe you should be completely satisfied with your purchase.
We are here to help! Reach out any time at sales@flickback.com, or call us at (800) 541-3533 from Monday through Friday, 9am to 5pm PST